By collaborating with a partner who has the capability to scale and sustain future operations, as well as provide support across multiple categories, OEM's time-to-market can be significantly accelerated.
The Current State of the Orthopedics Industry
Globalization has created a critical need for understanding complex supply chains and how to manage them better, especially with the rise of the COVID-19 pandemic. Supply chains are hard to keep under control, so it is important to choose a Medical Device manufacturing partner that has vertically integrated capabilities. This will help with the launch of new products with critical lead-times, as well as handling reorders aka. routine replenishments.
Inflation has drastically impacted every level of the supply chain from raw material to labor wages. Increased customer demands, regulatory requirements and inventory shortages are causing Medical Device OEMs to spend more time on product development than initially planned.
How Can These Issues Be Addressed?
As these challenges continue to influence operations and lead times, contract manufacturers across the globe are coming up with solutions to address OEM's pain points. Suppliers are now expected to provide their customers with more than just a product. They must combine R&D innovation and manufacturing expertise to deliver a one-stop-shop platform for premium quality devices.
It is crucial to select a partner with the capability to expand and back up future operations. That's what drives Intech's strategy to establish Centers of Excellence across the world, which can assist its customers across multiple categories: surgical instruments, orthopedic implants, sterilization cases and trays, surgical instrument handles, and additive manufacturing. This dramatically simplifies day-to-day operations by reducing the number of points of contact, effectively simplifying OEMs' Approved Supplier List (ASL). Working with a single source partner can also be an opportunity to implement Vendor Managed Inventory (VMI) solutions combined with Kitting or Dock-to-stock programs, streamlining the entire supply chain.
Accelerating time-to-market from Design to Kitting
As a global company for Healthcare, Intech's supply chain management is the result of many years of invaluable industry expertise. With vertically integrated capabilities scattered across the globe and services that range from contract design of exclusive, bespoke instruments to contract manufacturing of proprietary implants, Intech provides OEMs with the tools they need to successfully launch their next project. From prototype to full-scale production, Intech's expertise and capabilities make it possible for OEMs to streamline their supply chain and accelerate time-to-market.
By continuously reinvesting in its people, its facilities, and state-of-the-art medical equipment, Intech is in a position to provide some of the most competitive lead-times in the orthopedic manufacturing market: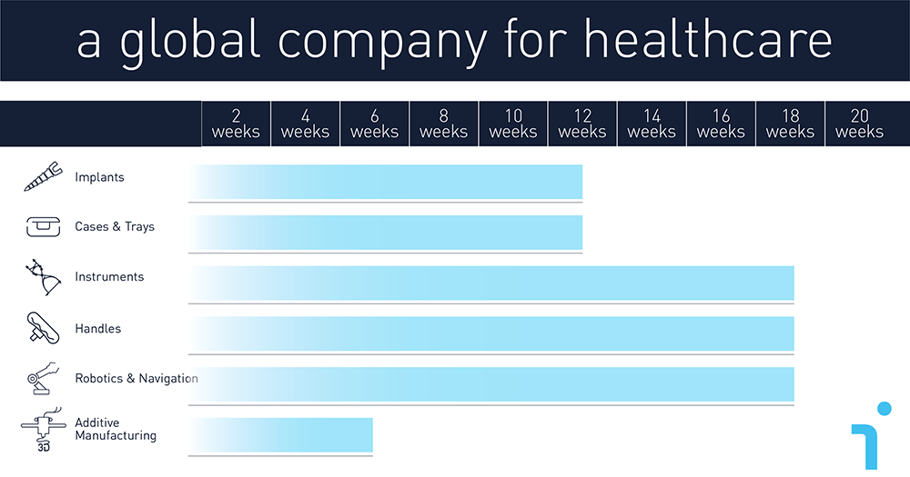 In conclusion, time-to-market being a primary decision-making factor, OEMs should ask themselves 3 questions before they pick the right long-term partner:
How robust is their quality system?
Can they deliver on-time?
Do they have the means to scale as OEMs expand into new markets or as they are acquired?
Contact us