On a quest to produce the industry's smallest cannulated screw, Field Orthopaedics, a hand extremity trauma Medical Device company, partners with Intech to gain a competitive edge and scale the launch of its Micro Screw System.
Think BIG. Engineer Small.
Dedicated to creating innovative solutions to advance hand surgery, Field Orthopaedics stands at the forefront of innovation. The team designed the fully cannulated Micro Screw System to help surgeons accurately reduce fragments with small diameter compression to facilitate healing.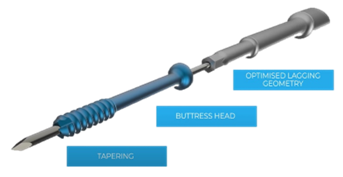 The Micro Screw System pushes the limits of minimally invasive surgery by introducing the industry's smallest cannulated screw ever: a Ø1.5mm screw with a Ø0.6mm cannula.
The Australian-based Medical Device maker now faced a pivotal challenge to bring their concept to reality by partnering up with a manufacturer capable of producing the world's smallest cannulated screws at scale…

Innovation through collaboration
When Field Orthopaedics first contacted Intech the Micro Screw design was still being finalised, and the conversation rapidly evolved from overall capabilities to in-depth design for manufacturability (DFM) to facilitate a seamless transition from concept to production.
Manufactured from titanium alloy (Ti-6AI-4V ELI) for strength and biocompatibility, collaborative efforts between both parties helped fine-tune the design to achieve prototyping and develop a proprietary process.
Beyond this, DFM allowed us to improve the machining process, cycle times, and reduce production costs across a range of sizes.
"Partnering with Intech was instrumental in bringing the Micro Screw System to life,"

says Patryk Kania - CEO of Field Orthopaedics.

"Navigating the intricacies of producing the world's smallest cannulated screws demanded more than conventional manufacturing capabilities."
Intech Penang's vertically-integrated capabilities with in-house gun-drilling and Titanium anodizing (type II and III) were instrumental in bringing the Micro Screw System to life. Upon discovering Intech's broader capabilities across the group (instruments and cutting tools to caddies and trays and even sterile-packed solutions), Field Orthopaedics rapidly saw an opportunity to expand its relationship beyond the machining of screws...
At the crossroads of innovation and precision engineering
As a result, the adoption of end-to-end solutions empowered Field Orthopaedics to significantly reduce the time-to-market for their launch. Through efficient collaboration and strong engineering support, Field Orthopaedics gained a competitive edge in responding to market demands promptly.
The successful collaboration between Field Orthopaedics and Intech, from conceptualization to manufacturing and beyond, exemplifies the transformative impact of strategic collaborations and comprehensive manufacturing approaches in the Medical Device industry. Field Orthopaedics's Micro Screw System is now commercially available in the USA, South Africa and ANZ.
The relationship has since expanded to support the NX Nail System, the most comprehensive intramedullary nailing system on the market for hands.
As Field Orthopaedics continues to expand its reach through the distribution of its flagship products, the Micro Screw System stands as a testament to the possibilities that arise when innovation meets precision engineering to deliver the industry's tiniest cannulated screw!
For more information on Field Orthopaedics visit https://fieldorthopaedics.com/
Watch the Field Orthopaedics' Micro Screw Kit Product Video